RELIABLE COVERAGE FOR YOUR BELONGINGS

The benefits that home contents insurance provides:
Coverage of damage due to fire, lightning, water damage, storm & hail and burglary and theft
Individual tariffs tailored to every life situation
Replacement of damaged property at original value
Option to cancel on any date – regardless of the policy duration
All policy documents online – no documents in the post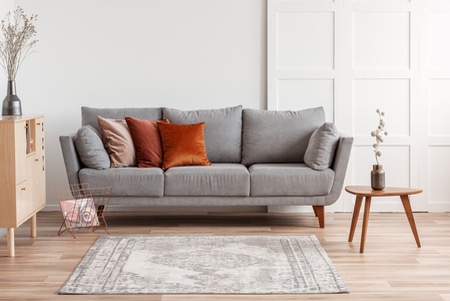 When do you need home contents insurance?
Home contents insurance covers your moveable home contents against burglary and theft, water damage, fire, lightning, explosion, storm and tempest. The best way to visualise the term 'moveable home contents' is as follows: If you were to turn your home upside down, everything that drops down can be classified as moveable home contents. If you are trying to decide whether you need home contents insurance, ask yourself this: In the worst case, would you be able to buy new furniture, devices, clothes, valuables, etc. to replace damaged items after a fire, without getting into financial difficulties? Just like personal liability insurance, annual home contents insurance costs a relatively small amount but it safeguards against precisely this financial risk.
Our home contents insurance is based on a living space tariff, i.e. if your living space square footage is specified correctly, the current value of your home contents is guaranteed up to a maximum compensation amount of €250,000. This means that you do not need to worry about being underinsured. You can also select the following supplementary modules for home contents insurance:
Around-the-clock coverage for bicycle theft (incl. bicycle trailers, e-bikes and pedelecs)

Other natural hazards (such as flooding, backwater or earthquake)

Glass breakage
Optimum coverage with individual selections
Choose the tariff that best suits your personal requirements: NEO S, NEO M and NEO L
Transparent, everywhere and any time
In myNeo, you can find all the information and documents pertaining to your policy. You can also make policy adjustments and submit a claim.
We take the irritation out of insurance
You can cancel your home contents insurance on any date
Great services for a fair price