ensuring that minor mishaps are no big deal
The benefits that personal liability insurance provides:
Sum insured up to €50 mill.
Individual tariffs tailored to every life situation
Rated "outstanding" by Ascore Scoring: Tariff Single NEO L
Option to cancel on any date – regardless of the policy duration
Easy online policy management incl. all documents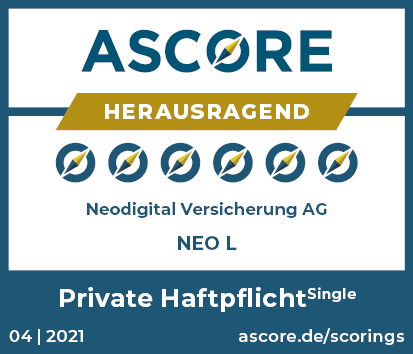 Why do you need personal liability insurance?

Personal liability insurance protects you from the financial consequences of damage/loss caused by you. This makes it one of the most important types of insurance. You are liable for damage caused by you, with the entirety of your assets and on a life-long basis. Costs can quickly spiral into the thousands, especially in cases of personal injury. The person responsible for causing the damage or injury must cover the costs of in-patient treatment, rehabilitation programmes, operations, follow-up treatments, etc. Personal liability insurance pays out for justified claims for damages, but also defends against spurious claims.
You can choose personal liability coverage for singles, couples with no children, single parents and families.
Optimum coverage with individual selections
Choose the tariff that best suits your personal requirements: NEO S, NEO M and NEO L
Transparent, everywhere and any time
In myNeo, you can find all the information and documents pertaining to your policy. You can also make policy adjustments and submit a claim.
We take the irritation out of insurance
You can cancel your personal liability insurance on any date
Great services for a fair price