The benefits that buildings insurance provides
Insurance against damage caused by fire, water damage, storm and hail
Individual tariffs tailored to every requirement
Optional additional coverage of natural hazards, glass breakage, photovoltaic systems and drainage pipes
Real ability to cancel on any date
Complete digital management – no documents in the post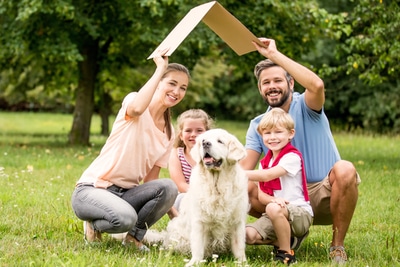 What is covered by buildings insurance from Neodigital?
Our buildings insurance covers your home in the event of damage caused by fire, water damage, storm and tempest. Our model is based on square footage, meaning that you won't be underinsured as long as you specify the correct living space. Underinsurance arises if the sum insured is lower than the value of the building. In this case, an insurer may reduce the payment made for a claim and the policyholder will be responsible for the remaining costs. You do not have to worry about this with our buildings insurance. When a claim is made, we cover the costs without deductions as long as the square footage specified for the living space in the application does in fact match the actual living space.
In addition to the fundamental risks included in all of our buildings insurance tariffs, such as fire or water damage, you can also insure against natural hazards (flooding, backwater, earthquake, subsidence, landslip, snow damage, avalanche and volcanic eruption), building glass breakage, photovoltaic systems and drainage pipes. Our NEO M and L tariffs also automatically cover singe and scorch damage.
Buildings insurance makes sense for every homeowner, as damage to your own property can swiftly become very costly indeed. Buildings insurance gives you the security you need when making a claim, ensuring that you will not have to worry about the costs incurred.
Optimum coverage with individual selections
Choose the tariff that best suits your personal requirements: NEO S, NEO M und NEO L
Transparent, everywhere and any time
In myNeo, you can find all the information and documents pertaining to your policy. You can also make policy adjustments and submit a claim.
We take the irritation out of insurance
You can cancel your buildings insurance on any date
Great services for a fair price